I met Jimmy Lynn at E.A. Hall school in 1960. We became good friends at that time and throughout high school. Jimmy was a true statesman. He wanted to be a politician as well as a comedian. I think he would have been great at either or both as he was always campaigning. He loved JFK! Jim joined our family for our annual camping trip to Yosemite and he provided us with comedic skits around the campfire and he kept our family and friends in stitches for the weeklong event.
I loved hanging out at Jimmy's house with his mom, "Blackie" and Dad. I called him Mr. Lynn. It was always an adventure and fun to visit with Bruce Giberson who was nearby and also a good friend of Jimmy's. I can picture Jimmy with his button down ivy league shirt, v-neck tennis sweater, and white shorts with tennis shoes and socks. This was his look for his entire life!
Jimmy brought much joy into my life and into the life of my family. He was entertaining, fun and he was a good friend. I am sorry I lost touch with Jimmy later in life but I was glad to learn he was loved by his neighbors and all who knew him. I will always hold fond memories of my dear friend who always made me laugh and who always was a good friend.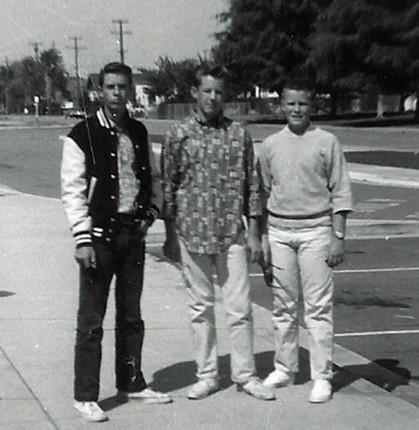 Jimmy Lynn, Bill Probert and Jim Lopes at E.A. Hall 1961